Apparently today, December 20th, is the 10th anniversary of the death of Carl Sagan. Some dude with a blog is organizing
"The Carl Sagan Memorial Blog-a-thon."
I high school, me and my buddies had a science teacher who told us all to watch Carl Sagan's TV show "Cosmos." We all became Carl Sagan fans. Ironically? Could be. But nonetheless, we formed a "Science Club," and the name of the science club was "Cosmos." The only thing I remember us actually doing was creating possibly the worst homecoming float ever and later dumping it in R.A.S.es front yard. R.A.S. was one of our friends who we actually called "R.A.S." We also sometimes called him "B.A.S."
Another thing we used to do, in class, was draw cartoons. One of our characters was our science teacher. (There's a cartoon of him on the blackboard in the background of the yearbook picture of "Cosmos," the science club.) And of course, Carl Sagan became one of our favorite characters. We'd draw him flying through space with a jet-pack, fighting his alien enemies, the evil "X-nots."
So that's my Carl Sagan tribute. Fond memories of high-school geekiness.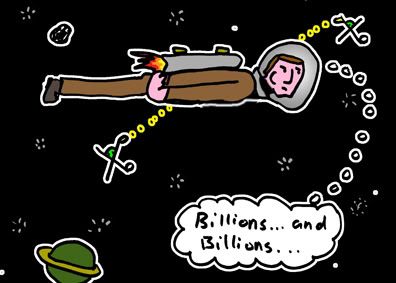 RAS is BAS!
The title of this post is from Dr. Sagan's description of the Library of Alexandria, from "Cosmos."